Science, Technology, Engineering and Math
It's an Acronym you may have heard recently, but what exactly IS  STREAM?!
"The idea of emphasizing the subject areas of  STEM (Science, Technology, Engineering, and Math) has been driven by the business community to prepare a more agile, educated workforce for our country's future. However, in recent years, it has been increasingly evident that our economy is truly driven by innovation and the creativity and communication nurtured through the "Arts" is an essential component to innovation and worthy of emphasis as well.  Rooted in our faith as Catholic schools, "Religion" is woven throughout all subjects and completes the picture for a holistic approach to education."
Our teachers have been able to utilize STREAM Academies to approach areas across these subjects in a hands-on way that makes learning that much more fun and enriching! Even though the basics of these lessons are integrated into subjects throughout the semester, each Tuesday, our Students are given devoted class time to dive deeper into their chosen Academy, and for many of them, it's their favorite day of the week!
STREAM in the Diocese of Buffalo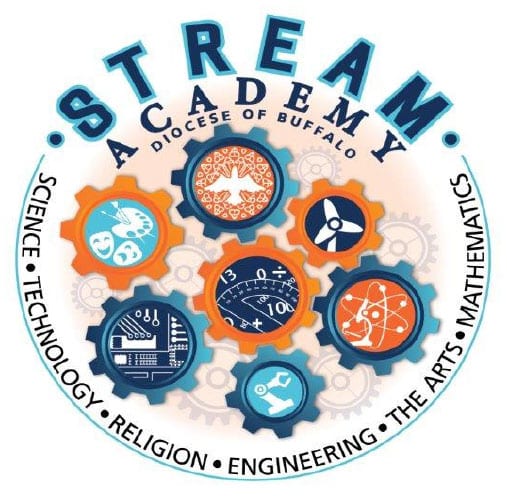 Our STREAM Academies and Integrated Projects
Alternative nrg - (energy!)
As a proud Catholic School, Religious Education is woven into every subject we teach, helping our Students understand that part of who we are is in everything we do! 
We also strive to build up character traits that are cornerstones of Catholicism, like service, perseverance, kindness and compassion. Service is a large part of our message, and we give our students the guidance and ability to reach out to our School Family and Community in service.
We participate in and lead Weekly Masses and all Holy Days with our congregation. As a school, we learn the meaning behind seasonal services, such as Stations of the Cross, so as to more deeply understand our Faith. 
Faith Formation is seamlessly integrated into their grades as they grow, guiding them through these wonderful Sacramental Ceremonies and celebrating them together as a School Family.
We have many subjects in our curriculum here at St. John's that help round out our "Whole Student" Education. See below for all of our enriching opportunities!
Music Instruction
Spanish Instruction for Grades 1-8
Physical Education
Art
Library Our library is a cozy haven where all of our students can set out on a fantastic adventure, learn neat history and world facts, or have a wonderful story read to them! Our Librarian, Miss Kotas is our beloved Resident Adventure Guide – helping to expand the boundaries of imagination and encouraging our kids to learn to love reading in so many unique ways.